Well, what does one do with a three day weekend? Home projects of course! Today, I worked on getting more bathroom wallpaper off the wall. Tedious, is not the word, whew. But, much progress was made.
But, as with any hard job, you need a break and so at much encouragement from the hubby,(he could probably read the look in my eye that said, a sledge hammer would be a more efficient way to bring down this wallpaper), I went to
Colonial Fiber Arts
for a bit of Sunday Spinning. But much to my surprise and pleasure, Nettie wasn't spinning today she was trying to load one of her larger cotton looms for weaving and lucky for me needed some help. So I spent the afternoon as a cotton loom apprentice. And while no actual weaving was done today we did load 11 yards of cotton twist onto that bad boy and let me tell you that is some hard work! Constant combing and untangling and rolling. Whew. Good times.
No other potential spinners came in today so it was just Nettie and I and in between her customers and tourist coming in and out of the shop we had a blast, not that some of the customers and tourist weren't a blast, many of them were very interested in what we were doing and watched and asked questions. Some were not so impressed. But, that is okay too.
Before I left though I bought a hemp backpack shopping bag and a small basket handwoven in Guana with elephant grass and goat skin handle.
Nettie does business with a co-op there and sells the ladies baskets for them here.
They are truly beautiful works of art and completely functional!
I plan to put roving in mine!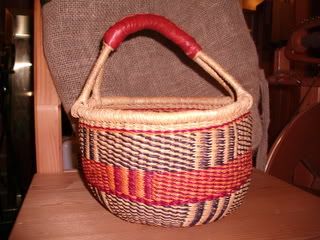 Are't the colors amazing. They have some that are much larger too. I would like to get one of those, but as with everything else where to put it? This one is easily carried and can be tucked away on a shelf without too much trouble. I think I will probably use the hemp back for knitting projects as well.
I hope everyone had a wonderful weekend and if you had a three day weekend for the Fourth, I'm sorry tomorrow is Monday. :-(
Happy Knitting!