As promised here is an FO picture of my socks. These socks were made from the left over yarn from the socks I made the hubby. I used the Lion Brand Sock Yarn and had enough yarn from two balls to make two pairs of socks. Now, my pair are ankle socks so the leg portion is only 4.5 inches. I used a basic toe up design with stockinette stitch for the foot. And then ribbed design from
More Sensational Socks
for the cuff. I think they turned out rather well.
Socks just hanging around...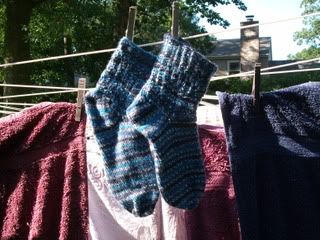 I am also on track this month with my goals. I have started a scarf destined to be a Christmas gift for someone, from some yarn I had in my stash. It was reclaimed from a shawl project and I have lost the tag for it so I'm sure what it is exactly. It is very soft and a worsted weight.
Other activities this week have included tending to the garden. I have several beds around the yard either raised or with little fences to keep the dogs out. The hot peppers are doing great! I have had several peppers already from them, so much so I had to give some away. I am drying several now that will be made into a salsa sauce or chutney of some kind once I have some ripe tomatoes.
Some like it hot...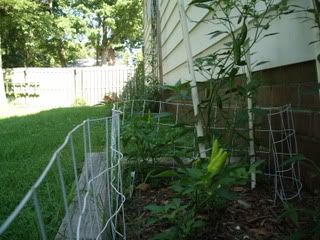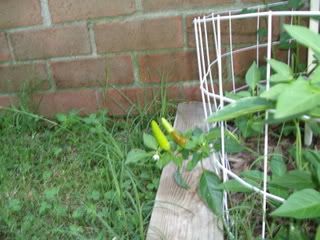 Speaking of tomatoes, they are doing good too, and I have several just waiting to get big and ripe.
And the cucumbers are taking a stroll around the garden.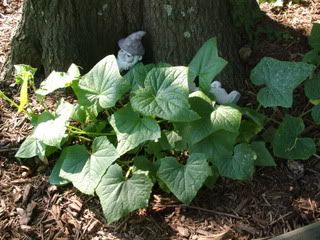 We have had lots of rain lately and that is helping everything, but we need more really, a second fire has broken out in the Great Dismal Swamp and they are still trying to get the first one out. The peat in the swamp is burning and they can't get that out. They are pumping water in from a nearby lake, dropping water from the air, but nothing is working. I am concerned for the Swamp itself, it is a beautiful place, but I'm worried about the animals there are a lot of black bears that live in there, and that is where the stray ones that come from other areas and get into the residential areas are relocated to. They are going to have to flee to someplace. It is also is home to the largest stand of long leaf pines left here. They used to cover this area, but they have all be cut down or died. So if anyone has got too much rain, please send it this way!