This weekend I had some relatives and friends in town for a little history tour. They came for the weekend and wanted to see the sites of the Historic Triangle (Yorktown, Jamestown and Williamsburg)two of the guests had not been to the area before so were very excited to see everything. A weekend really isn't enough time, but we did the best we could. Saturday they had a fun filled afternoon of shopping at the various outlets, my aunt was the tour guide for that portion of the trip, she lives not far from Williamsburg.
Today, was my turn to be the tour guide and I was in charge of the historic portion of the trip. We had a grand time! We started our day early at 8:30 and went to Colonial Williamsburg after breakfast.
Here is three generations in my family: My aunt (dad's sister), my great aunt (also on dad's side) and myself. Now, my great aunt is in the middle does she look 83? I don't think so. She is amazing. Not shown were two family friends, the ones that had not been to the area before. They were taking the pictures.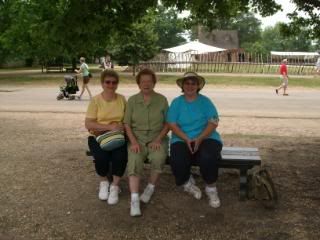 Then it was off to Jamestown Settlement and then to lunch where we were joined by two more local family members. My second cousin, Cindy and her husband, Rick. I didn't think to get a picture were all laughing and having such a good time at lunch. I felt really sorry for our waiter, but he was excellent at his job and a very good sport as much adou was made over his cologne.
Finally, we ended our day at Yorktown we arrived in time at the Riverwalk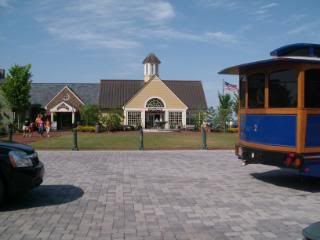 To see the fife and drum corp perform, they are very good and all children!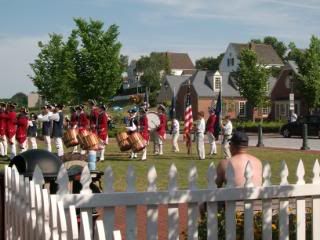 The Riverwalk was recently created in the past few years and the old pier was improved at evidenced today by the cruise ship that was visiting.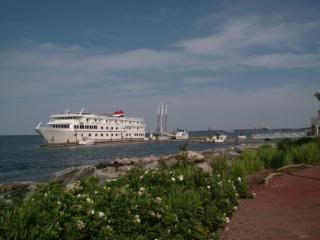 I even gave a little lecture in one of the store that had some Leicester Longwool fleece on display regarding the process of skirting, cleaning, spinning and knitting. I just couldn't let a chance for something wool related to be included. But, sadly we didn't see any of the Leicesters out this morning.
I did meet a wondefully mannered young brindle boxer named Mason who gave me a kiss. She and her human were out walking for socializing skills. She was doing wonderfully.
Hope everyone else had a lovely weekend. And lets all keep the folks in Iowa and other parts of the midwest in our prayers.
Also, part of NC is burning and now so is the Great Dismal Swamp. They smoke here has been terrible the past couple of days. Send positive thoughts and prayers to the firefighters they can bring it all under control soon. Some rain would help.
Happy Knitting.