I am waiting for the bell to ring, seriously when will it stop. I have been so busy and I can't seem to get everything done that I normally do or want to do.
I had a deadline at work this week, which isn't really a problem other than I have to get the report approved for I send it out and I always send it for approval several days ahead of time and inevidibly it comes back to me the day it is due with issues or some sort, they found something I didn't or they had some history on the case I had no way of knowing and now things have to be revised. Although this time wasn't as bad I did at least not have to stand at the fax machine this time at 5:15 trying to get it faxed out to the applicant. And I did learn a lot from this weeks experience I just wish other people didn't want until the last minute. But that is okay just something to remember when I am in charge! LOL.
It was nice at the beginning of the week so I took sock on a field trip at lunch time.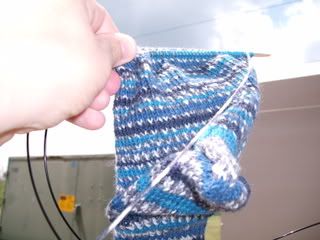 I went outside to sit, but I needed to find a place where I wouldn't be bothered. So I went out behind our building there is a concrete sidewalk there, and a big green generator thing for the heating system so that wasn't running and then a huge field.
So I sat there because I figured no one would really be taking smoke breaks there and the shop guys grill out by the parking lot on their lunch break, which is cool but it was just a day when I wanted some peace and quiet and watch the clouds float by.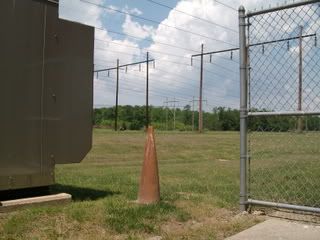 We saw lots of clouds. Little did I know how much rain those clouds were leading to us! And hail!
And I got some more eggs from the farm this week with one really funny looking egg!
It is a long skinny egg! LOL. We got a chuckle over it.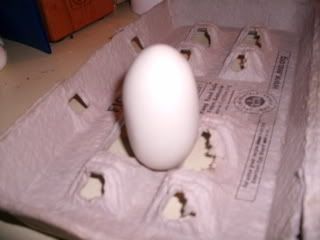 I finished planting the peppers this week after work, hooray!
I hope they do well I have never planted chili peppers before. I planted them in a different bed than the bell peppers, I didn't want those hotties to be a bad influence on the bells.
I also planted some geraniums...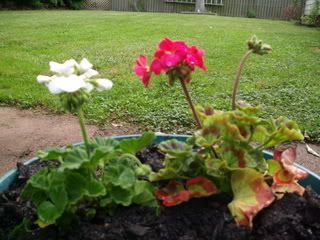 While I was out planting I noticed this...
It is the rose bush I gave my mother her last Mothers Day.
It blooms every year for Mothers day despite my having moved it twice. And it blooms through the second week of September which was her birthday. It grows up to the gutters on the house and it had orginally been planted by the front door, but it was taking over the front porch and grabbing everyone coming in the house. It now as a knice place out back with plenty of room to grow and no one will bother it. I am thinking of getting an arbor for it to grow along. I think it would like that.
So to all you Moms and anyone to cares for someone else even if they have four legs instead of two, Happy Mothers Day!