Can you believe it is time for
Dogs on Thursday
already? The girls have been behaving themselves and not getting into mischief and so I have to give you belly shots today.
Rub my belly!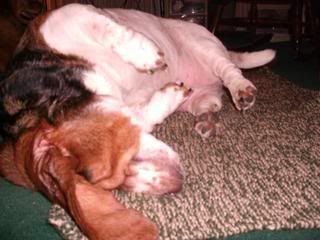 So I am still working on the sock, I am halfway down the foot so there is progress being made. But, I also have a
a really good book
I am reading right now and so it keeps pulling my attention away from the sock. The sock is not happy. It has rebelled by dropping it's stitches off the needle when I am not looking and I can hear it snickering too.
The Tiger Lilies are blooming I just love their color!
I hope everyone is going to have a lovely weekend, I will probably sleep through it. And probably wont' be able to post much for a day or two as I am having all four wisdom teeth removed Friday morning. So please forgive my absence for a few days, but I'll be back.
Happy Knitting!