It was a cold rainy Monday here, not a day you really feel like going back to work, but would rather stay home and knit. But, when I got home there was a wonderful surprise, my package from
Cindy
my Spring Swap Pal!
There are filled chew hooves for the girls, some peanut butter biscuit (they love peanut butter) some pig ear chew alternatives! For me, there is a manicure set, an organic milk chocolate bar, YUM! Lavendar hand lotion, a brush and pumice stone, and yarn! One hank of creamy merino! And two balls of Cascade cotton yarn!
Thanks Cindy, it is all so wonderful!
Over the weekend I finished the socks! I know I didn't think it was going to ever happen either. But here they are: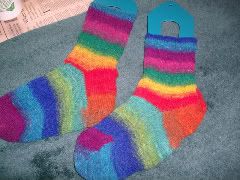 I am not happy with how they turned out but, they will be warm and comfy.
I started a sweater vest for the hubby for summertime, it gets cold in his office with the AC in the summer, but a full blown vest is a little much so I am making the "Big Easy Vest" from Maggies Rags. He picked out the pattern and yarn, it is a very soft peruvian wool. And so far it is quite an easy knit.
I'm think this won't take as long as the socks. LOL.
Hope everyone had a great weekend and planning a great week!