Okay for starters I had this nice long DOT typed out so that when I got home all I had to do was cut and paste it here and add the pictures, but my laptop has a new word software program on it that I thought was compatible apparently not. So it is a bunch of garbly goop. So I will try to re-create my DOT thoughts as best I can.
The girls are enjoying Spring so far, they are sniffing everything that blooms. Two rabbits enjoying the spring weather were teasing Molly this morning by enjoying a game of rabbit chase in the neighbors yard. Just out of reach.
I finsished the Stitches and Stories Dog Sleeper, it is Basset tested and approved.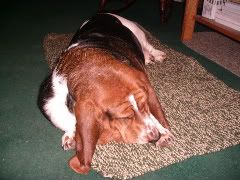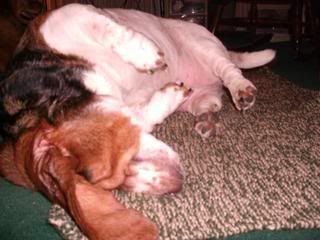 Molly says it is nice and soft! Just what an older dog needs!
This one was sort of my "test" sleeper and it did not turn out as well as I would like, so I will let the girls have this one now that I have the kinks worked out and set to making a bunch more suitable for others. I have all sorts of colors, although I still want to find some orange so I can make an Orioles sleeper.
I will sell them and donate the money to House of Puddles.
The next ones shouldn't take as long as this one (I hope!)
Happy DOT!