Day Light Savings!
Yippe! Now it is not dark when I get home in the evenings. I only wish our time was like this all the time and we didn't have to go back in the fall. I mean I realize the reason it was created and now they are saying it will save energy and I hope it does, but why don't we save energy all the time? I don't mind so much that it is dark when I get up, I just hate it when it is dark when I get home in the evenings. But alas, no more at least for a while!
We had some crazy weather here this weekend. Much needed rain in Friday a little Saturday morning but the wind on Saturday was crazy. It was gusting around 50 something at our house and we were headed over to Virginia Beach and there it was gusting at 72mph! It was very warm and sunny, but the wind would knock you over! Trees came down, some people lost power. We were very lucky our neighborhood did not suffer any of those problems.
Saturday was a lovely shopping day. We went in search of a new bicycle for the hubby, I think he may have found one he likes. We checked out a couple of knitting stores at the in Va Beach and I can't say enough good things about
Ewe Knits
We spend a lovely time in there talking with Bobbie and her staff. I bought some yarn and a pattern to make the hubby a sweater vests. A project bag by Bagsmith. Another little table top organizer for knitting bits and pieces. Then we went to Michaels and I bought some more yarn for another project I am working on. Details of that coming very soon!
We went to Borders but I really wasn't impressed with that particular store. It seems that bookstores' stock differs from location to location, certainly based on demand for that area. But apparently, the people in that area, do no like the same kind of books I go because I thought the selection for Medieval History and the Crafting section were very light compared to the Borders closer to the house. So we browsed and moved on.
We had a nice late lunch out and then came home. Sunday we spent trying to determine the exact problem with the truck and we found it. A leak from the heater valve, fluid leaking down onto the manifold was causing the white smoke that would start and stop suddenly. So today I am going to see if we can get the part locally, if not I found it online and it isn't very expensive and we can replace it ourselves, no problem. But it might be this weekend before we have time to do that; luckily we have another car and we carpool so not a huge inconvenience at the moment.
So it is Monday and hope springs eternal for a week better than the last. I also noticed a number of blogs that I read seemed to be having a tough time of it for various reasons, so I hope this week is better for everyone.
The girls say, they will just have to take a nap to make up their hour.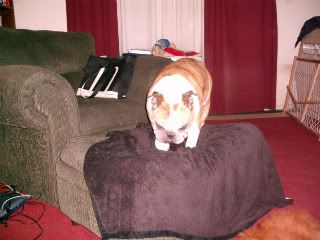 Cheer up everyone spring is on the way!