Sunday's are my day to multi-task. I generally am home all day, unlike Saturdays which are days designated to go do "stuff". Yesterday was an uneventful trip to the book store and lunch.
With only two days to get stuff done around the house and that includes any laundry that didn't manage to get done during the week, I try to make the most of my Sundays.
So the ultimate in multi tasking tasks, is baking homemade bread. I love the way it makes the house smell. And you have some really yummy results for your efforts. Some of my friends ask "how do you find the time" well it is really easy. Because the bread has to rise twice and it takes a few hours each time. And there is a couple of hours for me to be able to do something else productive; like laundry, vacuuming, spinning, blogging, reading oh I don't know some days you just need to sit and read a book you know. But not today.
Today, while waiting for bread to rise, I tried a little more spinning with disasterous results, I managed three loaves of homemade bread with no problem and managed to somehow mess up a pan of chedder muffins for the dogs, go figure.
Another thing I like about making my own bread is that I control the ingredients. I use unbleached flour; and there are a variety of very wholesome flours out there to choose from the best as it has been told me are the sprouted kind, but they are harder to find. I have found rice flour and soy flour and a variety of others in just your local Farm Fresh grocery store, although I realize they are not in every state.
I used unbleached wheat flour, honey, yeast, sea salt and water. Thats it, six little ingredients and tada three loaves of bread. After you knead it and make it into a nice big ball, you let it rise in a warm dry place.
Like my oven after I warmed it at 200 degrees, for two hours. Then I took it out and punch it down and knead it again. Put it back into the oven and let it rise again, the directions say it only takes half the time as the first rise, but I let it rise a little longer than that. Usually an hour and a half. Then bake on 350 for 40 minutes.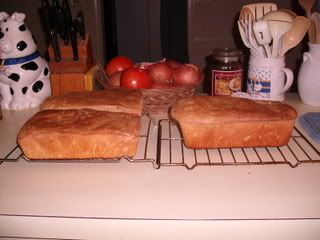 While all of this rising is going on though you have all that time to do other things around the house, today I tried some more spinning, it didn't go well. So more laundry, blogging and general house cleaning etc.
I also managed to organize some pictures today and create a little slideshow of my WIPs, (I count include chariety items) so that is it my two lonely little projects I have been working on since January.
Oh and yeah, I also checked out
Amanda's
blog today, she is having an awesome contest you must go check it out and you absolutely must see the hand dyed yarns at her
Etsy
shop! Tell her Milly sent you!
Happy Knitting!