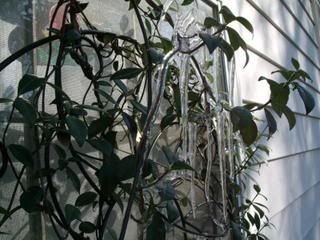 This is not the view I had today. This is actually from a week ago.
I have completed the gusset and heel of my sock and have started the foot. It is going quite well actually. The pattern uses some techniques I have not used before but I am enjoying them. The pattern is from More Sensational Socks, Charlene Schurch.
I completed two of the five items on my GAL so, the socks and the two shawls will have to carry over to February. Plus add one more pair of socks, the Jaywalkers.
Well it has been warmer than it has been in recent weeks and today is no exception, we are expecting 80 degrees today! Yesterday it was 70 or so, almost beat the 1890 record, but we missed it. I bet we break it today. I might have to open the window in my office today. Although tomorrow it is supposed to back to normal and in the 50s. I've given up on snow this year. It has been years since we had any in March so I think any chance of snow is over for this winter. It is so warm today I broke out the Crocs! I love me Crocs, they are so comfy!
I am having a problem with my window at work. It is a nice floor to ceiling window (only the bottom portion opens) but in the morning the sun shines through it which is nice, but it makes the window reflective and every morning I have birds flying into it! Not so hard that they hurt themselves, but the sparrows and two cardinals that live in the holly trees outside my window spend at least an hour fluttering up next to the window and banging their little beaks on it. Across the hall from me we have a wall of windows and the same thing happens over there in the afternoon when the sun shifts around to that side, but over there it is usually larger birds like robins and they have knocked themselves out they hit the window so hard. And then the hawks come and get them before they can get up again. And last week a robin killed itself it hit the window so hard. Apparently this has been an on-going problem and no one has been able yet to find a solution that prevents them from flying into the windows. Poor little things!
We had a little surprise at work this week. A co-worker brought in her 8 week old sheepdog puppy for everyone to see. Her name is Bella and she is just the sweetest thing. She has a white head with a black patch over one eye. So we had a sort of therapy dog time with a puppy. Which is a good thing for a morning when I think I am catching a cold and don't feel my best. A little puppy kisses have curative powers.  And apparently I'm not the only one feeling bad this week we have had two other people call out before of illness. It just going around I guess.