Hooray for Saturdays! I know we all love weekends, who doesn't really, but I am so glad it is the weekend. It seems like the week has been so long. I have done much at work and am ahead of the game there, which is good. I have much to do at home this weekend the wallpaper stripping continues (pictures to come) I lost a pound this weekend, hhooray!
I am behind in my blogging, my pictures are sitting on the camera waiting to be downloaded resized and posted. My knitting isn't going as fast as I'd like, but the sock is nearly finished but it is only the first sock I still have it's mate to go and a second pair to cast one after a trip to the LYS. I do have a few pictures from last week.
I have been trying to post these pictures for several days, everytime I try somehow I get interrupted. The laptop bogs down, or is otherwise too slow. I can't do it from work, or like now the hubby is calling from the other room for something and I have a bulldog trying to push the laptop out of the way so she can get in my lap.
Sock at work: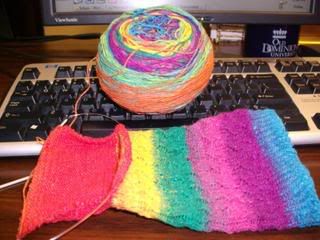 The pictures do not do it justice on how the colors blend. But is is fun to watch the colors change slowly as I knit.
I know a lot of us have had colds or sinus problems recently and a few other ailments so to everyone out there who is not feeling well today here is a Rosie kiss!
Happy Knitting