What a Week, Whew!
I started the week at Knitting Sisters in search of the ever illusive gray sock yarn. Still no luck, I am beginning to think I missed something, that there is some global shortage of gray sock yarn. Just plain gray. I found black, red, blue, variegated of every sort but no gray. I looked in the wool, I looked in the cotton. It is incredible, it is like gray has been banned. I grant you it isn't the most exciting party color, I mean it may not spark images of fireworks on the 4th or flowers in bloom in spring, but it is a comforting, snuggly kind of color.
So I decided on a soft, warm substitute. A mercerized cotton. Which has a nice soft feel and the feeling of being warm with hot coco on a cold day. My dear friend is just going to have socks in every color until I can find the gray! I plan to knit these into the Jaywalkers, this fulfills my Sock a Long requirement for February and my Gift a Long as well.
Warm socks are a requirement today 31 F. I'm not complaining it is February and I do expect it to be cold what is starting to grate on my nerves is having 80F one day and 31 the next. It wreaking havoc with everyone's sinuses around here and my poor plants don't know what to do. And I must be the only one praying for snow around here because the snow we got last night was less than ½ inch but it was snow. Of course, I'm at work at normal time and didn't get to play in it with the girls. It was actually a surprise. It stopped raining around dinner time last night and at 1am there was no snow or signs of it. When the hubby came in from letting the girls out this morning to tell me there was snow on the ground I thought for sure he was just joking with me because he knows how much I have been wanting it. But there it was, in all of its grass poking through glory. Not having anticipated snow this morning that put the morning routine into over drive, so today is the second day I have run out of the house without make up only to realize in the car when it is too late to do anything about it! UG. Its' been a week.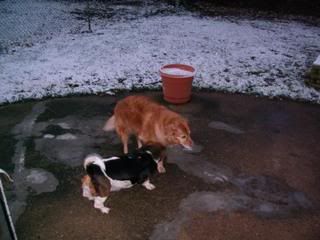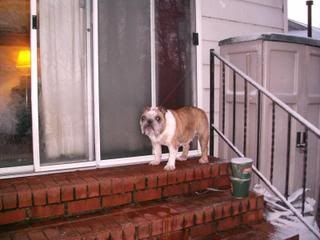 I did finish my sock and have cast on the mate for it. Have I ever mentioned how much I do not enjoy the cast on stage? You know those for few rows or rounds until you really get your stitches moving. It this phase that makes me question my motivation for wanting to learn to knit in the first place. Part of the problem is I am a tight knitting and I try very hard not to be and so the cast on stage is my biggest challenge, trying not to make the stitches so tight I can barely move them on to the next needle. Or too lose that it looks sloppy. I drop more stitches during these first few rows than any other time. It drives me nuts. I have started and restarted the ribbing for the second sock. First, I started a 2x2 ribbing only to realize that on the first sock I did 1x1 so I had to rip it back and restart cast-on hell again, I'm still there. I couldn't seem to get it right yesterday so today I will tray again. I had told myself when I started my funky striped socks that I wasn't going to work about the order of the stripes wherever I stopped for the first sock would be where I started for the next. Well I chickened out I just couldn't do it. So I rewound the yarn to get to a point where I would be starting with the same color as I did for the first sock. The colors have been moving in a predictable sort of fashion. Blue, purple, green, yellow, orange, red, blue, purple and so on. So I rewound it to get to the blue and you know what! The order was broken they reversed the order of the blue and the purple! So now my second sock is going to be purple, blue, green, yellow etc. And I keep telling myself it is okay, that the socks are fun socks and it doesn't matter. But the left side of my brain is plotting a hostile take over of the right creative side.
Last weekend was productive I shampooed the carpets, did the laundry, played with the dogs and baked homemade bread, which made the house smell so good.
I didn't work on the wallpaper project, but I have high hopes for this weekend, but hey you can't do everything you know.
I have ordered a new toy, I will post pictures of it when it is arrives hopefully by the end of the week. Stay tuned!
I gave my first knitting lesson this morning. A co-worker has really been trying to learn to knit and having a rough start. Another co-worker who knits wanted to help but she is left handed and her style is completely different and was hard for co-worker one to follow. This morning I brought is some super chunky yarn, she had needles in size 15 and she is off and running! We got the cast done and she is going to knit some more at lunch as will I (pesky ribbing on sock #2) I love helping people with knitting. Because, I remember how I felt when I first started and so many people helped me. It gives you the warm and fuzzies to help and/or encourage someone else you know.
And lastly how cute is this little guy? I found him in a bin of several, its a dog's chew toy from Petsmart, it says Milkbones down his leg. No way the dogs are getting their paws on this one!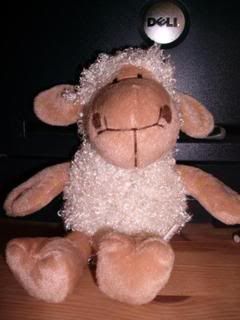 Happy Knitting!