The Board of Supervisors for the county where I work, sponsors an employee appreciation day each year. It is for current employees and their immediate family members as well as retirees and their families. It is an all inclusive event.
This year it was held at the
Virginia Air and Space Center.
They have IMAX there, a flight simulator and a variety of really cool displays and interactive things. Lunch was even provided, and you could also use the ice skating rink. I don't know how to ice skate, so we didn't do that, we did go to the IMAX and watched a movie about helicopters, the hubby really had a great time!
I took a bunch of pics and thought I'd share a couple with you. It was a great day and we had a blast!
The capsule from the Apollo 12 mission that brought the astronauts back is there, it is amazing how small those things are! I guess after being in space some someone a little close quarters is no big deal.
This is a birds eye view of the capsule:
Here is a close up and you can see where it burned during re-entry. Can you imagine being inside when it was on fire outside!?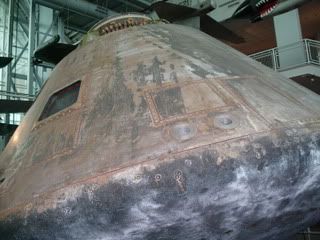 And here is a Huey helicopter, they are the ones you see in a lot of the war movies, I really thought it would have been bigger.
Off to get some knitting done!
P.S. Wayne Newton was in town today as well, I really wanted to go see him but it was one of those things where I procrastinated on.