Disclaimer: This is going to be a very long post I have been writing it for a couple of days. But fear not, there are some good pics to go along with the story telling. So if you need that refill on your morning coffee, now would be a good tim. Enjoy!

Spin me right 'round baby!
I went to my spinning class Thursday evening and loved it. I learned so much more than just "this is how you spin roving into yarn" Nettie Cross is a wonderful teacher and even though wool is what we were spinning, we learned about the characteristics of both animals and plant fibers and how they spin in opposite directions. We learned fiber preparation, the different ways to clean your fleece; this was more discussion not demonstration. We learned to use both the drop spindle and the wheel. It was supposed to be a two hour class but it went for two and a half. The class consisted of me and my co-worker Anna! The three of us were having such a good time; we didn't realize what time it was! It was fabulous and the wonderful is that, of course, your not going to be a perfect spinner in one night so Nettie offers "free refills" you can come back with your spindle or your wheel if you are having problems, or getting stuck and she will help you! She always has "Sock Saturdays" and "Spinning Sundays" so I think we know where I will be spending my weekend time, don't we? LOL.
So from a technical stand point what did I learn? I have my roving that I carded at home, carded incorrectly. (need to try and fix that), that I get too much twist going and don't feed the bobbin fast enough. So I am treadling faster than my hands are working. So need to get the feet and hands talking to each other. Need to check the tension on the wheel and have a little pep talk with it.
So having identified my issues I can now set about correcting them. I did pretty well on the spindle though. I have to admit I had some preconceived notions about using a drop spindle but realized that with the nifty little distaff Nettie made us that it is portable spinning! Sweet!
So onward to spinning this weekend! And I have a three day weekend whohoo!
So finally some pictures! My wrist warmers:
Next time I think I will use ribbing as these are not stretchy and are therefore a little looser than I would like, but I have used them at work and they do warm me up.
So I am still working on my socks and I need to have them done by the end of the month. I think it is going to be cutting it close. But here is what I have so far. I think of them as lava socks because of he slow progressing of the colors change as I knit down the leg of the sock. I am knitting them in a cross ribbing pattern. From the book
More Sensational Socks.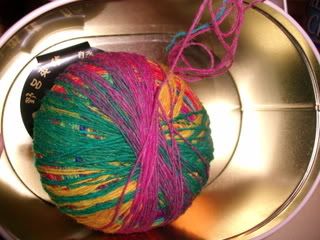 Friday the forecast for the weekend called for snow, a winter storm even. Now normally a winter storm around here is really an ice storm so the thought of having a storm that involved snow was exciting. All afternoon at work, we all talked about what we would do in the snow. It was supposed to start late Saturday and go into Sunday.
Well when I woke up Saturday morning it was raining and kept switching back and forth from rain to rain, with sleet and snow and back to rain again. So I knew then we were doomed because if it did snow the ground being so wet it wouldn't last. Finally around four o'clock while I was in the bookstore enjoying a hot cocoa it turned to all snow. The hubby and I finished our book shopping and headed for home. And it snow well into the night and then changed back to rain!
As we were watching the weather they were still saying we could get up to 4 inches! Do these people not have windows where they work? So this morning, it is a lovely 28 degrees and the snow amounts to a dusting and is frozen.
Belated Dogs on Thursday
But the girls got excited when they saw it falling and begged to go out in it. Well Lily and Molly. Rosie was having none of it.
Molly wanted to stay out in what little we have this morning and play but it is too cold to let her stay out for long. So she is laying by the back door pouting at the moment.
Well this is the end to my extra long post. Thanks to those of you who made it to the end!
Happy Knitting!