I can't believe how close we are to Christmas. I have yet to decorate anything, which means the girls don't have their Santa suits unpacked yet. But that will make a nice DOT post sometime in the near future. For now the weather is still mild with highs in the 50/60s. The leaves are still hanging on the branches and are a lovely array of fall colors. Lots of yellow and orange. The acorns are unbelievable this year. I thought with the drought there would be small and not very plentiful, but boy was I wrong. We can't take the dogs out with them getting some piece of an acorn pod stuck between their paw pads.
we had the girls out for a walk night before last and Molly suddenly start limping, no wimpering, just a sudden limp. It was dark out so we stopped under a street light and pulled an acorn pod thingy from between her pads.
Then yesterday, Rosie came in from the back yard and was walking funny but not really limping. When I went to investigate, you guessed another little pod thingy between the pads. The bad thing is we don't live in an area where the deer will feel comfortable to come and eat the acorns and there are more than the squirrels can handle. Not to mention the hawk couple that has taken up residence in the neighborhood has thinned the squirrel population a bit.
Lily and Molly though continue to have a good time looking for critters entering the yard.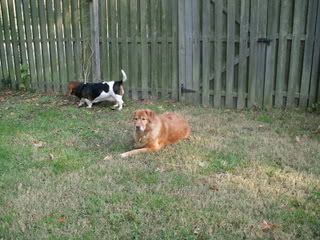 And Lily is eager to play.