That is how I spent my weekend. First the knitting, I finished a hat and scarf set, started another and worked on the baby bog jacket.
It is purple with pink snowflakes emboirdered onto it.
The kneading, I decided I needed to start baking my own bread. I can never find what I want in the stores and they always have so much yukky stuff liked bleached flour (I don't want to think to hard on how that happens) or gluten. So I decided the best way is to start making my own. Now, I have to start small and simple because I have never done this before. In fact when I was a teenager I had a neighbor who baked bread for her family for the week on Sundays. It took her all day and I would come over to help watch her baby so she could get it all done. Her hubby would not eat store bought bread. Her house alwasy smelled so good.
So today I started with a simpe french bread recipe:
1 1/2 tbsp. active dry yeast (that a packet and a half if that is how you buy yours)
1 tbsp. honey
1 tbsp. sea salt
2 cups of hot water, (hot tap water is fine, you don't have to boil it)
6-7 cups of unbleached flour
Mix the yeast, honey and salt and mix. Add the hot water and stir. Add 2 cups of flour and mix. (I used a wooden spoon)
Put the spoon away and then add 2 more cups of flour at this point you are using her hands (I recommend putting some flour on your hands to keep the dough from sticking and also taking off your rings unless you want a baked surprise.)
Add the 5th cup of flour and keep working with your hands, pour the 6th cup of flour on your kneading board or counter top whatever you have to work with and dump the dough from the bowl to the kneading board you may need something to help you get the dough out of the bowl.
Then there is enough flour in the dough it will not stick to you or the board anymore, but knead for another 10 minutes anyway.
Once you have finished kneading and you have a big ball of dough put a few drops of oil back into the bowl (don't clean in the bowl first) and roll the dough ball around in the oil. (I used olive oil)
Place the bowl with the dough in a warm place for 1 hour for the first rise.
After an hour poke your finger in the side of the dough halfway to the first knuckle and see if the hole you makes holds its shape, if it does your in busines if it fills back in, let it rise some more.
So now it is time for the fun part, punching down. The yeast has built up gas in the dough and you need to get it out of there so you punch it down and take it out of the bowl and start kneading it again. You will hear the gas escaping the dough and you will feel the little bubbles in it as well, work them all out.
Then you can start shaping your dough.
As this recipe is for french bread, you want to divide the dough into four pieces and starting from the center of each piece roll it into a long bagette about 1 1/2 inchs in diameter. Place then on a baking sheet that has been greased and coated with cornmeal.
Keep them apart don't let them touch, and let them rise under the same coniditions as before. The second rise is only supposed to take 1/2 the time which would be 30 minutes, but mine didn't look like they had risen much so I let them rise for another 30 minutes (1 hour) total for the second rise.
After that hour all looked well, I cut three diagnol slices in the tops to allow the bread to rise upward instead of outward while baking, slathered with cold water and put it in the oven for 10 minutes at 400 degrees after 10 minutes I slathered with water again and let it back for another 15 minutes and viola! It's done!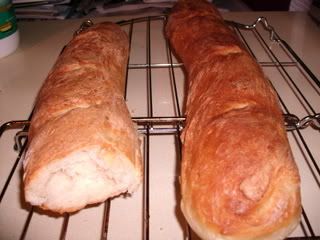 And Yummy!
I also watched a horrible B western movie and helped the hubby change the oil in the truck all and all it was a productive weekend.
Which makes me not look forward to tomorrow at all.
I am thinking of taking a real estate class, it is the one that preps you for your license. It is online and you can start it anytime and the cost isn't very much and I am thinking it might be either a good career to fall back on or switch to full time if I need to.
I'll keep you posted.
I wish you were all here to have some French bread and a little wine with me this evening!