We woke up early yesterday morning and said, "hey want to go somewhere?" The hubby has been long over due his pilgrimage to Charlottesville, (we normally try to go every six months or so) we hadn't been in ages. He was having used and rare book withdrawals. So we played with the dogs, fed them and got ready to go. If you don't leave here by 8am on a Saturday you aren't going to get very far the interstate clogs up and no one moves for miles and miles. But we made it and we got to were hopping out of the truck in the parking garage in Charlottesville at 10:30! Whhhoohooo!
We have one bookstore we usually buys lots of books at, so this time we were smart and started there first and the truck was parked closest to that one so we wouldn't have so far to go to carry all the book stash! The store is called
Daedalus
and it is amazing! It is three levels of over 94,000 books crammed into every possible nook and cranny! But that doesn't mean they won't be outdone but the priced stores with their places to relax and enjoy the books...
Actually I took this picture for different reasons, I just liked the look of the lone chair in this little room that is more a closet than I room I think, there are books hiding everywhere, we love this store the owners are such nice and knowledgeable people too!
But surprisingly I didn't buy as much there as I normally do, I have a love of Medieval History and only bought three books in that area, I looked for books on spinning, knitting and yarn in general but they only had embroidery and cross stitch books, so alas I paid for Larry's finds and we moved on...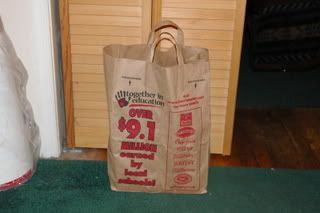 One lonely bag of books.
Larry made a few other small purchases at a couple of other local stores. Read It Again, Sam, which is a classy place and the Blue Whale, who always generously validate parking!
But what is a weekend without some knitting?
I got some valuable knitting time in the car on the way up, thank you hubby!
And then I thought I'd drop into the
Needle Lady
and see if
Margaret
was working.
Sadly, she wasn't there, she was off, but I explored the store and bought some lovely merino sock yarn by Jitterbug. The colorway is Blue Parrot, very lovely blue, with reds, browns and greens! One skein will do a pair of socks! Yippee!
I also found a wonderful Dog and Horses store, pets welcome! Everything you need for the dog or horse lover! So I bought a hat and euro sticker for the truck.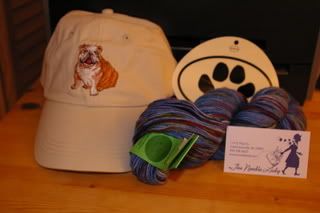 Also on the knitting front I think I forgot to post a pick of the finished wheel, I haven't been using it as much as I'd like though, but it turned it out lovely.
We eventually had to leave and head for home, we stopped in Richmond for a bite to eat on last bookstore, where I picked up some current issues of knitting mags and came home. Tired but we had loads of fun!
Also,
Amanda
is having a contest over on her site, she has designed a cute little bag! Go check it out! And wish good thoughts for her son, who had some oral surgery!