So Saturday I got up early and finished the hoodie. It turned out okay, but I still don't like the hood on it and will have to figure out a better hood design for the next one. But, as a beach or pool cover up I think it will do just fine.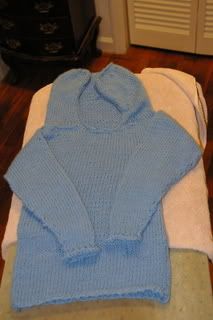 I blocked in on Sunday and tonight will package it up with the tank top and baby jacket and send it on its way.
I was going to start the second baby bog jacket but my hubby has taken a liking to knit ties. Which is fine with me, so I pulled out some stash yarn and am halfway through a tie for him. I plan to make him several. I like ties, they are easy and mindless and you can do them without having to concentrate too hard. Perfect for on the go knitting.
I am making him one now from Lorna's hand painted in Forest colorway. I looked up a pattern on Lion Brand and the basics are fine, but had to adjust for different yarn and needle gauge. But so far it is working out just fine.
The rest of the weekend was spent doing work related activities, laundry, painting, cleaning etc. We are still without rain here and today had warning of severe storms with hail but never saw any of it. In fact the sun was out while I was knitting on my lunch break today. We really could use some rain. The grass is drying up.
Well onward to make dinner.
Happy Knitting!