I love weekends! Well who doesn't really, but winter weekends are the best, a cold winter weekend. A fire in the fireplace. A good old movie and knitting!
It also helps if you have built in foot warmers like a basset hound or a lap warmer like a bulldog!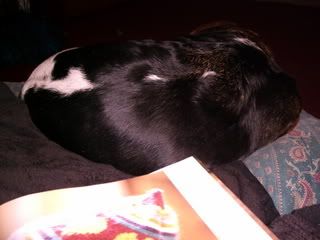 It helps to know you have warm yummy soup simmering and nothing but happy Christmas projects to work on. Who cares if Christmas is closing fast, these are happy snuggly projects! Like hats and scarves and other warm yummy things.
Than then there is reality!
There is the last minute gift for the neighbor that you put off til the last minute knowing that was the one gift you didn't have to ship. That means out and about and of course if you are already out you might as well stop here and there and then you must grab lunch!
Of course, it is all very fun and all the pretty decorations and the spirit of the season and all, but in the back of your mind you know it is cutting into your knitting time and there won't be any time to build a fire and let it property heat up the house. The soup will have to wait until later when it has the proper amount of time to slow cook and let all the flavors blend.
But that is okay, there is still another day in the weekend to be savored. And soon there will be a four day weekend, when no shopping will have to be done and the projects will turn to things with no deadline and of a more personal nature. But there are still so many things to make or up coming birthdays!
Ah the weekend!