Today was a wonderful day. We decided this morning that the weather was not cooperating with our plans to do yard work, so they hubby and I decided it would be a good day to go for a drive and oh while we are out I could spend my gift certificate to
Knitting Sisters
So we headed out about noon and I drove to historic Yorktown to show the hubby some projects I am working on down there, and we walked around the
Riverwalk Landing
It was a little chilly on the river and the tourist have all gone home and we had lots of room for walking around. We just happened to walk into
Colonial Fiber Arts
and just had to buy a little something. . .
hhmm a mystery bag
What could it be?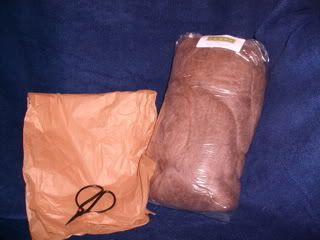 A 1/2 lb of Louet Roving in Light Brown Coopworth! Just yummy! and a pair of hand wrought scissors. These are the small ones they have a larger pair and they are much lovelier than the photo shows, but you are definitely not getting on a plane with these!
We met the lovely owner. We walked around a bit more and moved on to
Knitting Sisters
The ladies are closing the store for a week and who can blame them they work very hard all year, but it that created with Christmas being only a couple of days away made the store a bit busy today. They even tried to sell the hubby some yarn! He was very kind and pointed them in my direction which resulted in this:
A pair of small
Fiber Trends
sock blockers. Some Noro Kureyon sock yarn, some Lorna's Shepherd Sport sock yarn in Seaside and Cool. Two new sets of sock needles #1 and #2s and a Manos Cottage Cotton Collection Pattern book.
We had a a lovely lunch at
The Polo Club
That is one of our favorite places. The folks there are just wonderful and friendly and the drinks are good, so is the food. :-)
It was a wonderful knitty day! We came home the hubby and set up the new DVD/VCR so I could watch some Christmas movies. (Yes, I still have movies on VHS) But I have to watch "White Christmas" with Bing Crosby at least once you know.
So I hope everyone else is having a wonderfully knitty weekend!
Happy Christmas Knitting