Wow this week is just flying by, I can't believe tomorrow is Friday already. I'm happy about it, just can't believe it snuck up on me so quickly.
The girls got a fun box in the mail this week, there were some lovely treats for the two leggers in the house but the girls received a lovely cookbook.
We have a friend in Texas who comes up with the most thoughtful and enjoyable gifts each year, and the best part is the proceeds always go to help a worthy cause.
The cookbook is very appropriate it is called "Cooking the Three Dog Bakery Way" by Mark Beckloff and Dan Dye.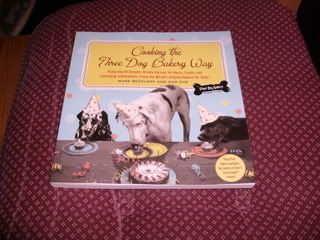 With yummy recipes like this one:
What do the girls think?
Rosie says, "why aren't you in the kitchen instead of standing there taking my picture"!
Lily and Molly ask:
"When is it going to be ready"?
They all three say, Thank you, Melinda!