This has been a really week! First, I got a new job, so excited about that!I will be working as a Planner in a neighboring county. I'm looking forward to that! I was interviewed on Friday and got the call on Monday afternoon. The people who I have met so far seem really nice and the buildings are all new so it looks like a nice place.
Larry got a clean bill of health this week so we are excited about that! But, now Lily is limping don't know why but I don't think it is her paw but maybe her elbow. So will have to take her to the vet.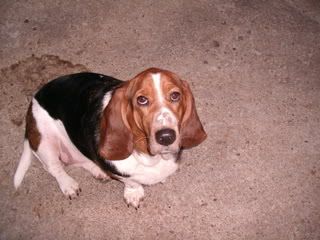 Also, I need to buy a new PDA, does anyone use one that they really love and recommend? I don't want a phone/PDA just a regular PDA. I'm thinking of an ASUS.
In knitting news I'm making a lot of progress this wee on both the scarf and the jacket, so that is good.
I have a meeting at 7pm tonight for work so I am going in late so I have spent part of the morning knitting.
Also, Halloween was fun. If you ever thought your job was hell, imagine going to work and seeing this!
It's hard to see the horns in that picture but trust me there are there.
We had a lunch on the lawn activity our employees associates sponsors them once a month and they have grilled chicken, hamburgers, hotdogs, whatever, this month was also the employee Halloween party and chili cook-off. If you went to the lunch in costume you received a free dessert. So naturally we had a few takers in our office.
Put me in coach, I'm ready to play!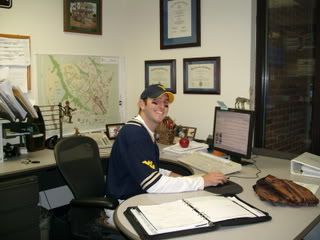 And remember the magic 8 ball? Well we had a walking talking one, but you can see the 8 in the pic, just the magic window!
And of course, the Halloween tradition may not have started in the U.S. but that doesn't mean we can participate with American pride!
And here is the gang on the way to lunch.
It was a fun day. And the week is almost over and I have one more week to go before I start my new job. These are some of the people I will miss, they are a great group and the people that helped me the most while I was there! Jason, Matt, Leanne, Ellen and Cheryl, I'll miss you guys! And can only hope I meet people just as nice and generious with their time and knowledge as you were to me!
Happy Knitting Everyone!