Yes, I actually finished the sweater today. I seamed up the sides. I don't think it is a great job as I am not yet very good at seaming but it does look like a sweater and it does fit so there is success! The hubby was quite convinced during the in progress stages that it wouldn't fit, he was pleasantly surprised today. I don't know why it took me so long other than I am just all about the process, even in cross stitching I have a drawer full of things I have cross stitched and never framed, fabulous things on linen and other uneven weave, but for me it is the enjoyment I get from the process. So I guess the same with the sweater. It has laid neglected in my sewing room/office on the blocking table for over a week completely dry and ready to be sewn up.
Also, let me say that I was so anxious to prove I had actually finished this, I didn't fluff my hair, I am just back from taking Lily on a hike down at the park and was wearing my "Knit" baseball cap so the hair is less than desirable. Or maybe that model isn't even me.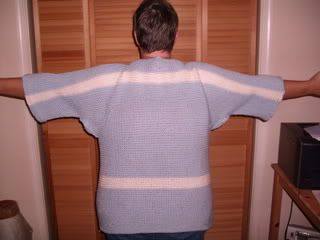 In other knitting news, I frogged about 8 inches of the scarf yesterday I wasn't happy with the way the pattern was turning out, so I frogged it back to nearly the beginning and started over and am much happier with it now. I have not had time yet today to knit. In addition to taking Lily for a little hike, I then had to take Molly for a walk. I didn't have 25ft leashes for both of them to have a romp in the park so it meant two seperate walks, which is fine I need the exercise as much as they do. Rosie had not interest in anything today that simulated manual labor. Here is the end result.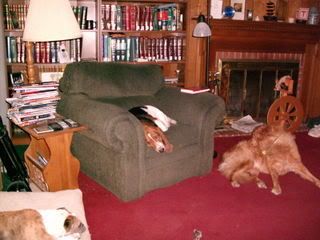 Also, it was Sunday so that meant baking bread for the week. I baked four loaves, plus make pizza dough which I used for dinner tonight. I had some herbs to the pizza dough and it really came out nice. It was a ground beef, chicken, onion and cheese pizza.
The before...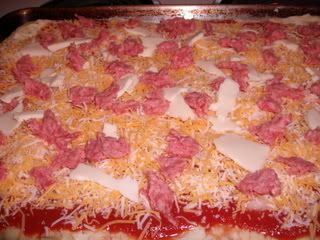 and the after...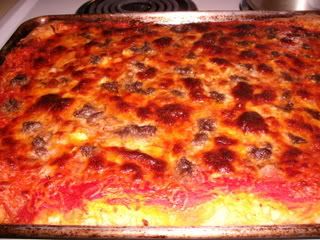 Also, it was nice enough to day to still hang the laundry outside for that fresh air smell I just love. Nothing like going to sleep on linens that smell like the great outdoors.
While I toiled away in the kitchen the hubby waxed the hardwood floors today and other manly chores.
Yesterday, was also a full day as we went to watch glider planes. They hubby loves planes and is facinated with gliders. I don't know not my thing really. I mean they just seem to circle around and around and land. The hubby assures me this is all quite facinating, something to do with the ability to fly without benefit of an engine. Who knows.
So to recap the weekend what have we learned?
In the baking department learned that a critical step not to be missed is the adding of oil to the pizza dough before adding the toppings, otherwise said dough can become soggy. Tasty but soggy.
From the knitting department, I don't care if it does say machine wash on the yarn label, hand wash it. or all this little ends you left poking out will fray like the dickens! And adding a nice I-cord to your collar because your stitches were a little uneven and looked pulled will make the neck hole smaller. Point taken.
Hope everyone got to knit something this weekend!