Woot! Three day weekend! And the weather so far has been perfect. A little warmer yesterday than predicted but the humidity is way down so thats okay. Today it makes you feel like fall. The temps are only in the 80s the humidity is in only 39% and there is a slight breeze with big puffy clouds. Because of the lack of rain this summer a lot of the trees already have dead leaves on them so I am feel very much ready to don a sweater and boots and put pumpkins on the front steps. But I think that is a little premature at this point, but I'm ready! I love fall, the colors, the apple cider, the crisp tempatures!
So it has been an interesting few days since my last post. Rosie did the cutest thing. I know all momma's think their babies are the cutest. But, the other night I was in the bedroom and it was starting to get late so I told the girls they needed to go outside one last time before bed. Well, Rosie hates going outside, she hates grass and temps that are too hot or too cold. So she started all sorts of things to avoid having to go out. At first she pretended not to hear me or notice the other two dogs running for the door, then she tried to get on the bed as if to say "I don't need to go out I'm ready for bed now" when that didn't work she jumped off the bed ran into the bathroom and jumped into the bathtub and sat down. "I'd much rather have a bath than to go outside" which is true the dogs loves to take a bath!
So Larry gave her a bath and then brought her outside with me and the other girls. We finally all got to bed. Silly dog.
On the work front, I have an interview set up for September 11th for a job within in my department. It would be a promotion. Now mind you it has been two months since I applied and they are just now getting around to interviewing people. It was advertised internationally so, my competition is pretty tough, despite the fact I have been doing part of this job for a year. But there is a guy from Sydney, another from Ohio with tons of experience, some recent college grads and a former intern in out office. Both of my supervisors and two of the current zoning officers are on the interview panel. I'm not sure of my chances really. One of my supervisors told me six months ago that if this job as a zoning officer open I should apply so when the person was leaving who had this job I told him I was going to take his advice and apply, I also told my other supervisor. I never heard another word about the job until this week. I wasn't sure if they were going to fill it or what was happening so I applied for other jobs in the mean time. One of which I didn't get the other I haven't been interviewed for and it is in a new division within our department, so things could get interesting. One of my bosses is completely excited that someone from Australia has applied and he would hire him on the basis that someone from Australia would be interesting to work with. And that basis alone. The former intern's mother is a local politician so I don't know what will happen. The other job in house that I applied for is a similar type of job but for the storm water division. Now, the director told me last week they may have to cut back some of their budget before they even start hiring and they may do away with the position I applied for, which is also the job I'd much rather have. (naturally) So I'll keep you posted on how all of this pans out.
On the fun weekend front.
Sears is having a sale on a everything as most stores are this weekend. And one of the things they had on sale was a camera that I had seen online. The lowest price I had found so far was $129 but Sears had it this weekend for $89. It is just a small little pocket camera, I wanted one that I could take more places with me rather than my big Pentex with changeable lens. It is some awkward at times and very hard to have handy for those impulse shots you know. So I wanted just a little thing so that I could have more interesing photos for my blog. Well I ordered it online and was scheduled to pick up at the store later. Which by the way is the way to shop on a holiday sale weekend, when you don't want to fight the crowds! I got a call 15 mintues after placing my order saying they were out of the camera I wanted which was listed as in stock online but they would give me another camera for the same price. I said okay. They said they would let me see it when I came to pick it up and if I didn't like it then we would work something out. Okay, no problem. So I go to pick it up and am directed to the electronics section and they have a camera same brand (GE) same size with similar features but it has 8 megapixels instead of 7 and a large view screen in the back, it is normally more money but I can have it at the same price as the camera I had ordered, sweet. Then because the tax for online is different than the tax they charge in the store (I was not aware of this) So I ended up getting $4 back in addition to an upgraded camera!
So this camera was $89 and 7mp my first choice, nice pocket camera
This is the one I got as a replacement normally $129, so I got a good deal, I think.
has more megapixels and turns out it takes great photos!
It said for on the go photography but to be honest I wasn't expecting alot from a pocket sized camera, well I took some photos on the way home. I thought I would take a series of photos of my town so the main drag is Mercury Boulevard you can't get anywhere of consquence without getting on Mercury and of course there is where the hotels, resteraunts, car dealers and everything is localed some good some bad. So here is the first in a series of pictures of my town.
This first photo is of the Waffle House in front of one of the hotels on a corner of Colisuem Drive and Mercury Blvd. There is in fact a colisuem at the end of the drive as well as a conference center in its' day big names played there, like ZZ Top, who by the way played so loud they cracked a tile in the ceiling and I was there! We also used to have a hockey team and a basektball team here, the Gulls and the Squires, both long gone. Now we get stuff like the American Idol losers tour and stuff like that. But it stays in business and so do the hotels.
Next door to the Waffle house is Hooters, sorry the tree blocked the sign.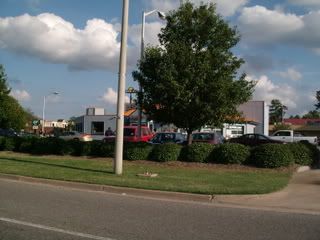 I've never been in there and I'm not sure how many people can fit in there the parking lot is really small the building doesn't look too big either and it is always crowded. I hear they have good wings.
Lastly, is one of the major car dealers in town, it has been around as long as I can remember. What I like about this shot is one the flag against the back drop of the clouds I think is nice, but what is really facinating to me is that I took this picture while my hubby was driving 40mph! (Well within the legal limit) But I think it speaks volumes to the quality of this little camera, I'm so thrilled I can't wait to take pictures of more stuff to show you!
On the knitting front, I am seeing the light at the end of the tunnel on the sleeves of my sweater and then it is down the back and seaming up the sides! I can't wait to see how it turns out, my first real sweater.
Hope everyone else is having a great long weekend!
Happy Knitting