Wow! It has been one crazy week. I can't even believe it is over and the weekend is nearly over again too! Where did the time go this week? On the bright side Wednesday the weather turned more fall like here, highs on 80 and lows at night in the 60s with a breeze, fabulous!
The morning here today is wonderful the sunrise offered a little color today.
Makes me want to spend the day on the water for some reason.
Today just feels like a nice fall day the fall colors are starting to pop up everywhere.
Yesterday we spent the day running errands and hanging out in Williamsburg. Today we are off to Richmond. Hubby needs a new bicycle and we looked at one yesterday he liked in Williamsburg, but there is another one he wants to check out and the closest store that has it is in Richmond. Which is cool. I like Richmond. It will be fun. But needless to say I am getting nothing done around here this weekend.
I mentioned work was crazy this week so I had to get out of the office and take a little walk. We are lucky that we are right along the "old country road" that stretches from Colonial Williamsburg to Carters Grove. I only had time to walk along a small portion of it, but it was relaxing. I will have to take the dogs there sometime.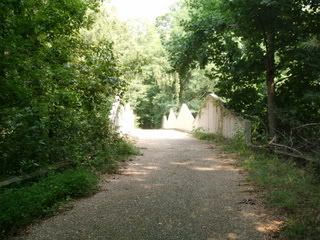 I also went back to the park along the creek this week and ran into the swans again. I also ran into a big mastiff/rotwieller named Opie. He was just the sweetie boy. I got lots of snooter kisses but I didn't get a picture. Maybe I'll see him again sometime. His owner was nice too and we talked for nearly an hour.
On the knitting front I am only a few rows away from finishing the back of the sweater then I have to make two gussets that are seamed into the sides and done.
Then I'm going to have to get moving on some Christmas presents and fast!
Sorry for the lack of posting this week. I'm sure next week will be better!
Lily says, its time to go play!

Happy Knitting