Well, it was too short as they are always are, but it was nice. The weather was beautiful although today was warmer than it has been in a week, but very nice, just the same. I didn't do half the stuff I wanted to.
But, I did have a nice ride in the country over to Gloucester and through West Point back over into Williamsburg (James City County). It was a lovely drive and I went to Gloucester Courthouse area which is historical area and very much the main street of a small town community. I was driving and so no pictures (sorry :-( ).
We went to the bookstore, because what is a weekend without a trip to the bookstore? But I wanted to look for a couple of books on getting into real estate. I found a couple. More on that in the days ahead.
We had to get some food for the pups and ourselves so a trip to the dreaded grocery store was in order. I do not like grocery shopping. I will do just about anything to avoid it. But, I can't let the pups go hungry and so while I was out it only seemed logical.
So we had cornish hens for dinner, yum! Again, no pictures. I have really keep lax in that area.
But.... I did go to the library in town (City of Williamsburg) on my lunch break and took some pictures there. It is a lovely little library and they have two fountains out front, I got pictures of one, too many people were standing in front of the other and it uses recycled water. So it is pretty neat. They have chairs around both so that you can enjoy the area and read a book.
Inlay into the sidewalk of the Frenchman's map of the City of Williamsburg.
View of fountain.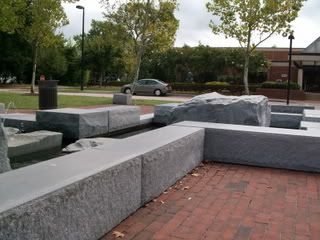 Another view.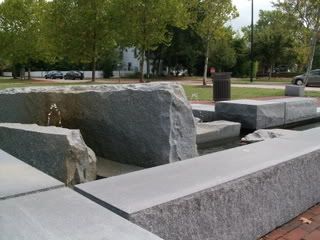 View of the community center across the street.
On the knitting front, I have started the hat to go with the scarf. I worked on it some this weekend hopefully will have that finished by Wednesday.
Pictures of the sweater are coming I promise!
Saturday was Rosie's 7th Birthday! She got some special food as a treat. And tonight she got some fresh read meat in her dinner. She is a happy puppy!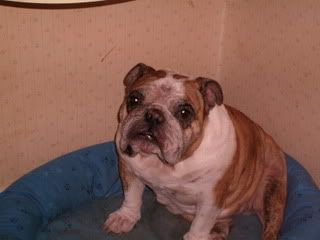 And because I know she will read this soon I wanted to say hello to by dearest friend in PA. Hi Boots! Love you!
Happy Knitting Everyone!