Well, it has been a good weekend despite nothing really going as planned, which is fairly typical around here; you get used to it.
I am trying to find our RV a new home and ended up waiting on a guy who called to see if anyone was going to be home so he and his wife could come by and then never showed. Great, so I missed the nursing home and play day at the farm waiting on this guy, thanks.
But, on the bright side I got the fleece I scoured all carded and ready for spinning while I was waiting so time was not wasted.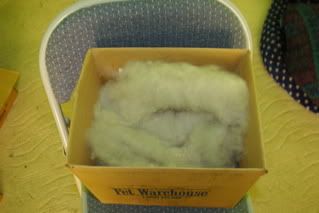 I got some knitting done this weekend too, still working on the sweater that is supposed to knit up "so fast" I guess maybe for a sweater it is, but my frame of refernce for quick projects are socks and ties and this isn't as fast as either of them. But still coming along.
It is from July issie of Creative Knitting. It is a garter rib stitch pattern, which is easy to do and lends itself to my being able to do it in the car or while watching a movie, but I think the repetition of it makes it seem like it is dragging along. I am working on the sleeves now and soon will be ready to shape the neck, then it will be down the back we go!
It has been really hot again this weekend and no rain, all the plants look sad and wilted despite out best efforts to keep them watered. The elephant ear plants that usually grow so large in the pots out back are stunted in size. But still pretty.
Last night we had a pretty moon even if it wasn't full, but my lens just isn't powerful enough to get a good shot. I am going to have to get the hubby to set up the telescope and try to use that to get better pictures. But, you can use your imagination a little here.
Surprisingly it was clear and no ring around it. Today has been so gray and the tempature with the humidity oppressive, we had thunder a little while ago and it just barely rained and that was it.
Well maybe later this evening we will get more, on the weather radar it is all around us but nothing here. I'm convinced we have some sort of rain resistant bubble over our city this summer because everywhere seems to be getting some rain and even hail and we get nothing. Needless to say I didn't go much outside today. Other than use the heat to dry laundry super fast and talked to a neighbor while it rained a little and we both enjoyed the feel of the rain and what little breeze came with it.
I needed up helping the hubby replace three electrical outlets today, an unplanned chore, because one went bad and knocked the other two out so we thought best to replace them all. The wiring was done in a manner not to his liking and we have been replacing outlets as we go around this house. The wires come loose and causes problems. So we went up to the hardware store bought a box of outlets and came home and got to work. Of course, at first we weren't sure which outlet was causing the problem in the room we use as an office so we had to check them all, time consuming.
But, all is well now, so a good job done by all there.
Hope everyone is having a great weekend, keep the bridge victims in your thoughts and prayers.
Happy Knitting