Well, I have been intending to post something all week but for some reason everytime I tried something else got in the way. So here I am finally on a quiet Sunday morning getting a weeks worth of news posted.
First, today is only day two of five days off! woot! Yesterday we tried to go out of town for a little day trip but started later than we planned and the traffic was just too terrible. We didn't get any further than we do on a daily basis and that was to Williamsburg. But, we found a new place to have lunch. A great little family place, Sammy and Nicks, since 1905. Had a lovely time there. Rode around for a while looking at neighbors for house hunting and headed home. That is when the rain started. It was heavy and much needed. Sadly it didn't last long but we had a couple of showers off and on so hopefully my plants enjoyed it.
My foot is feeling better so I ventured a bike ride with the hubby. It wasn't bad as long as I peddled with my right heel. And it sprinkled a little more rain on us so that was refreshing. And much needed, the rain and the bike ride. Last week at work especially from Wednesday on was a beast! I kept telling myself I just have to make it through Friday!Ug.
In knitting news: I finished the tie for hubby. It is
Lorna's
hand painted and the colorway is Forest. Its is a varigated yarn of dark, green, blue and black. I used the seed stitch the pattern called for. I am happy with the way it turned out.
Here it is in full length, but the picture is really dark for some reason.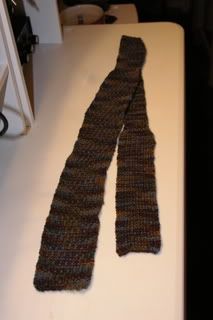 This shows a little bit truer sense of the color: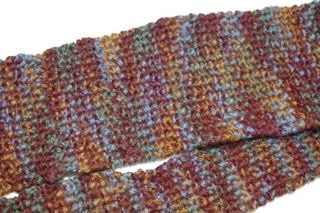 Although it really does't do it justice.
I enjoyed it so much, it knits up really fast, I started another for hubby. This one is a cotton/aryclic blend and I am using garter stitch this time. It is
TLC cotton plus
in Thistle. I have never used this yarn before and found that it is quite forgiving. How do I know? I've frogged it four times, experimenting with different stitches and stitch patterns. It has kept its shape and not frayed at all!
It is pale green, blue and purple with a white background to it. Again the pictures do not do it justice as far as the colorway goes.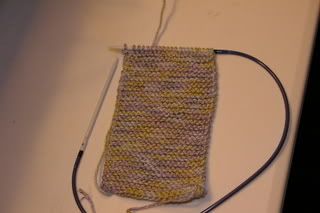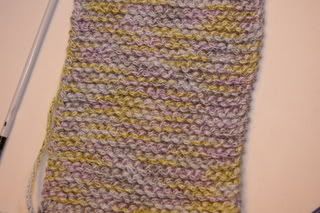 I'm using number 5 needles for this tie and I also used them for the first one.
I am also getting better about carrying my camra around with me. And snapped a shot of the moon the other night before it rained. It was very bright that evening. Not the best nighttime photo and I need to work on that skill.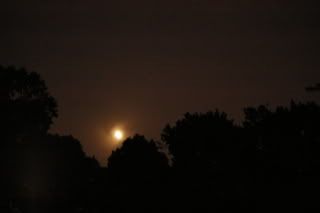 And
Amanda
sent me a wonderful postcard of the Assateague Lighthouse! Thank you
Amanda!
Go check out her blog she has some great pics of her trip! Looks like she was having a great time!
My spinning wheel is due to be delivered tomorrow! Yes! Along with the carders and niddy noddy, that is how I plan to spend the rest of my time off!
Happy Knitting for now!