...that's what it feels like here today, its 101F, oh but the humidityis low. I bet it's low on the sun too! Dang it is hot, but there is an advantage I don't seem to cough as much when I'm outside.
I am starting to feel like I am returning to the land of the living. Thank you everyone for their well wishes, I can't believe I miss a whole week of work! I spoke with people at work last week a few times, no one seemed to be upset that I wasn't there, which is good because I could barely get out of my own way last week, much less be useful at work.
A side effect for me of antibiotics is that give me insomnia. I actually got up Wednesday around 12 noon and didn't go back to bed until Friday around 8am. So lesson learned that the drugs in the morning you'll have energy all day! And in fact I did, because I finished a tie for a friend and in one sitting knitted a whole new one for the hubby. I also started a cute summer sweater for myself.
Tie for hubby: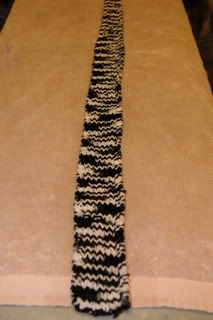 it is a neat stitch pattern, purled on the ends and knit stitch in the middle.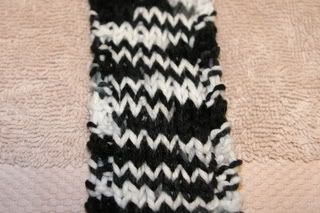 The wheel has been sitting all week waiting for me to come and talk to it and give a clear coat. Well I was finally able to do that today. It is outside in the driveway in the shade soaking in its first clear coat.
here are pictures from when I first started to apply the stain...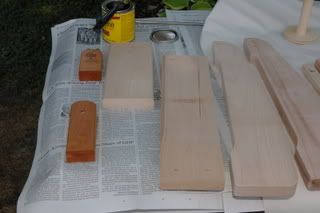 That same day I started scouring the wool. Here is a picture of my production line in that effort...
It seems to be going rather well I think The wool is coming clean and is so pretty and soft. I haven't done any carding yet, because the carders are on the table getting some stain too.
I have a nice pile of wool to start carding with and I have barely put a dent in the first bag of wool yet to be cleaned. It's very hard work, never let anyone tell you otherwise. And from all the things I have read, I do not feel that people stress the importance of combing or flicking part of the process prior to the scouring.
They all say to do it, they don't give a lot of detail, at least in the sources I have used.
Let me tell you this is the most important part, because scouring does not remove the vegtable matter. Oh sure it help to loosen it because the grease isn't there for it to cling too, but it doesn't just "fall out" For this I have found that a rake used for a dogs under coat works very nicely. I'm sure there are more specialized tools for this but, it's what was handy at the time for me.
Place a towel or something in your lap and lay the wool on it. Then start gently combing it with the rake. Do this for a few minutes and then shake the wool off to the side, vegtable matter will be loosened and will start to fall out. You may have to pick out some pieces by hand if they are really caught up in the wool. This is time consuming, but very peaceful. You can sit and enjoy the clouds and relax. This will also help in the scouring process later.
The weirdest thing I have found embedded in the wool? A smashed, dead baby grasshopper. It was kinda weird to see him staring up at me from inside a clump of wool.
I'm hoping by this time next weekend I will be spinning up a storm!
Oh, I also received my No Wool for You, yarn from my yarn pal! Becautiful cotton yarn, in a tangerine orange (2 balls) and a coco brown also 2 balls of that! It looks yummy, I will have to take pictures, now....that to make..hmm..
It's good to be back, happy knitting!