If you can really call it a vacation when you don't leave the city you live in....
I did go to Williamsburg today, plan to the be local tourist, but I'm not sure that counts because I work up there. Anyway, my foot was hurting too much to do any sort of serious walking to I bought my pass for the year and went to the office.
Yes, I said it the office...why on earth would anyone go to the office on their day off?
To get this....
A couple of boxes? Whoa! Thats exciting!But seriously,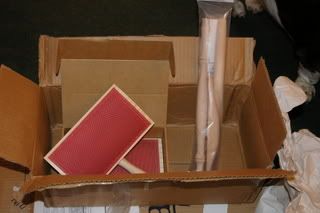 Carders and a niddy noddy....okay,now your talking yoy say....
tada! My kiwi wheel has arrive, it is a little disturbing to see it laying there like that actually. But not two worry because tomorrow it will become a lovely golden pecan color and assembled and a thing of beauty. More on that tomorrow.
Just so you don't think I didn't enjoy anything today here are some other lovelies.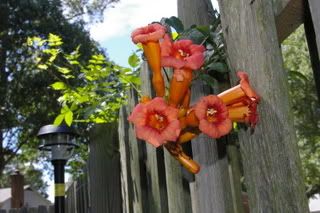 The trumpet vine is blooming. First time. It didn't bloom last year and the other two haven't bloomed yet. But I'm hopeful.
From the files of "it seemed like a good idea at the time" this is the view of the pin oak at the end of my patio from the bottom up.
And here is a lovely watermelon and tomato salad that was really delicious with the steak and roasted green pepper and onion we had for dinner. Fresh strawberry short cake for dessert.
My hubby loves it when I am off and have time to cook proper meals!
He is currently engrossed in installing Linux Mint on to the laptop, hi hon! Hope it's going well! LOL.
...til tomorrow, Happy Knitting!