I got some feed back from Terri and I have some clarication on some of the wool in the bags. The bag with the beautiful dark reddish/brown black wool, my fav is actually from Black Mountain crosses in Elizabeth City, NC. Love it! The white wool is from
Romney
and
Rombouillet
crosses in her flock! Sweet! Rombouillet = Merino!
In the group photo below are some hair sheep with are
Katahdins
. And Baxter the baby is a cross as well.
I thank Terri for the info because if I want to make sure I have my facts correct, but hey Terri, they are still very cool sheep! And I love them all!
Orginial Post:
Well this has been a fun weekend. First and foremost I want to thank Terri Chisman of
Bedlamb Bestieary
for the wool! Love the wool.
Molly and I hopped in the truck and headed out to Bedlamb traffic was terrible for some unknown reason (no accidents or anything) So we arrived later than we planned by 30 minutes but all was well.
We were greeted by Pam, teacher, software guru, manager for Bedlamb extrodinaire! And invited out to the field. The field is several acres and boasts a pond. Molly being the retriever that she is, doesn't like water. There is also a ditch a fairly deep and narrow one. Molly found that, three times. She did finally wade around in the pond some to cool off. See below:
As you can see she enjoyed herself getting wet and muddy and chasing birds.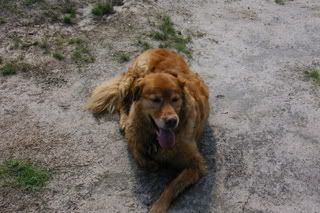 Pam and I just hung out discussing our theories on the upcoming Harry Potter book while Molly played.
Then Pam mentioned they had a lamb! Sweet! Terri joined us and led the way to the paddock with the sheep. Terri's flock consists of
Corriedales
and
Welsh Black Mountain sheep.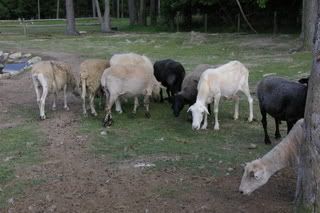 One in particular, Bonnie is quite friendly and very fond of Terri's granola bars!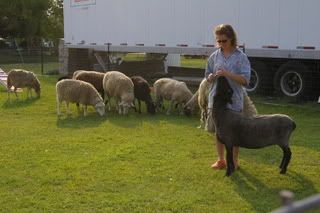 I mentioned the lamb, he is a Welsh Black Mountain and very frisky, he thinks he is going to grow up to be an agility sheep!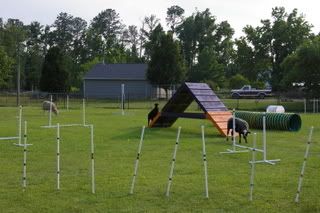 Terri is dog trainer extrodinaire and the sheep were helping to keep the grass mowed in her agility ring! I think she is on to something there.
So the three of us, the sheep and Molly had a great time and Terri gave me two bags of wool! I as so excited. One of the bags must weigh 10lbs! I'm sure some of that is hay and field debris but that is a lot of wool!
She gave me both Welsh Black and Corriedale! I can't thank her enough! I think this is totally awesome!
Here is some samples I pulled from the bags with morning: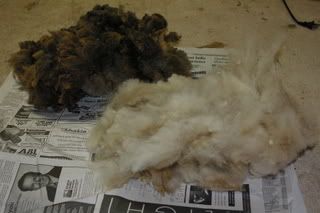 My husband doesn't quite understand how a bag of wool can make someone so giddy, but I know you guys understand and know that I'm not some nut who would rather get up in the morning and smell the fresh scent of wool than coffee. Okay, maybe I am but you know it's nothing to have me committed over. LOL.
So now the spinning adventure begins. I have checked out a couple of books on the subject of spinning from the library I found a book at Barnes and Noble last night and I local spinning and weaving club. So one way or the other I will learn to spin this precious wool! Let the adventure begin! I can't wait to spin it all up and knit something extradinary with it. I love the black wool the colors are so rich and both the Black and the Corriedale is so soft and springy!
I also managed to working on the hoodie last night as well. Today is painting day, so hubby is working on that right now and I will have to join him shortly but just had to share my good fortune with you.
Love to Pam and Terri! And all the donors! :-)
Happy Knitting!