Woot! I think it come out alright. Sizing is tricky without the model to try it on. LOL.
I have started the hooded pull over for my cousin's son. I am using a baby soft yarn and a very loose stitch pattern to make it useful for summer (hopefully) something he can use in the evenings or after hopping out of the pool. The tank was easier than I thought it would be.
Ribbing on the bottom and the top around the neck line. Icord straps and the rest just garter stitch.
Here is the tank in girly hot pink!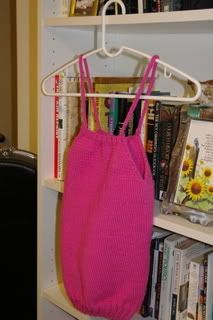 Heres a view of the stitch patterns worked in the project.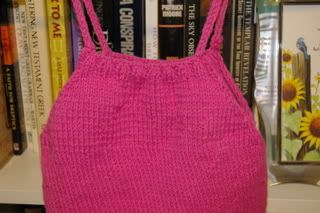 The hoodie is not being working in the round, I'm not sure how to convert the instructions to circulars, so I am going to try my hand and piecing it together when it is done.
My friend in PA got her socks! whoohoo and she liked them, even better! LOL. I will have to make her some more and try a toe up pattern.
I took the day off, I don't know if it is allergies or the summer cold that seems to be plaguing my office but I felt awful this morning. I have to admit I am feeling better now. Not 100% but better. The day is beautiful, it is sunny, breezy and I am getting so much done dispite not feeling that great.
I took some great pictures out in the back yard in between hanging clothes on the line.
Here is Lily being cute!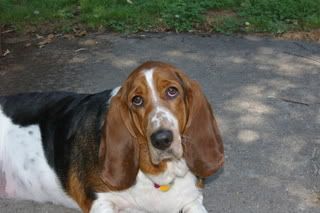 Here are one of the few clouds floating by out there today. Beautiful blue skies, reminds me of a BJ Anderson painting.
The Tiger Liles are opening up! They are so pretty!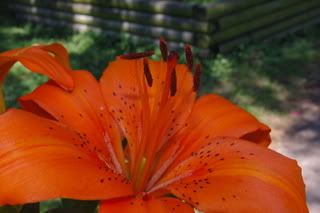 We had thunderstorms last night but not very much rain. I hope we get a little more. All the plants drank up the rain we did get. My elephant ear plants are poking their heads up, well some of them are still being shy.
I can't wait for everything to get into full bloom.
I hope everyone else is having a lovely day as well!
Happy Knitting!