I stayed up last night finishing up the hoodie or so I thought. But, I didn't like the way the hood part turned out even thought I triple checked the pattern, it just didn't look right, so I started frogging the hood at 7:30 this morning. I also realized that I sewed the right sleeve on upside down! UG! So I had to undo the seaming this morning as well. I plan to reattach the sleeve at lunch as that will not take very long and finish frogging the hood and knitting that up my way. I'm not sure what that is since I have never knitted a hood before, but I have an idea how it should look and the pattern isn't cutt'n it! So on to my own creative thoughts on the matter of the hood.
Work so far today is slow. We have 8 people out of the office this morning, that is half the staff. Two are on vacation, two are at meetings, the rest are out sick.
It is so quiet around here you could hear a knitting needle drop.
This weekend is promising to be a busy one.
Have more preparing the house for sale activities, need to take the dogs to visit the nursing home, need to gather up some junk/stuff to take to the city dump as part of the house for sale soon (i hope) additives but this involves the garage so I count it as a separate category. With all the stuff in there you would too!
I hopefully with finish the hoodie and get it blocked so that It can be packaged up with the tank top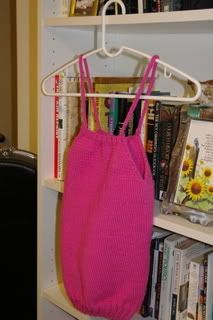 and the baby bog jacket
and sent off to three darling little children. And I can start the next baby bog jacket for the other little baby in the family.
I need to start washing my wool I got last weekend. The bags of freshly sheered wool in the garage are driving Molly nuts!
My foot is not being cooperative today, it is bugging me. So that is distracting and irritating all at the same time.
I really could use a break and I have to wait for another week and then I have five days off! Five whole days! Oh I can't wait!
What shall I do? The possibilities are endless really. I hope to be able to go out of town at least for one day. But not sure with all the house hunting and hubbies new job if that will be a reality or not. But at the very least I will get lots of knitting done. One day I think I will set up the lawn/picnic tent and sit outside and knit or spin or both.
I hope everyone else is planning a relaxing, enjoyable or exciting weekend. Take your knitting with you, knitting in public doesn't have to happen only once a year.
Happy Knitting