He is a Leicester Longwool and part of the rare breed program at Colonial Williamsburg. The folks at CW are committed to protecting and breeding these wonderful woolies. He is the new official mascot for my blog.
Here he is cuddling with some of the stash. Notice the
Knitting Sisters
bag in the back.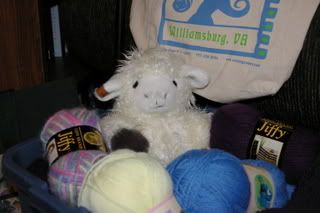 The girls are facinated by this handsome fellow.
He is going to be popping up in all kinds of places to be on the look our for "where's Wellington?"
As promised here is a picture of the ugly socks. The white whiskers belong to Lily.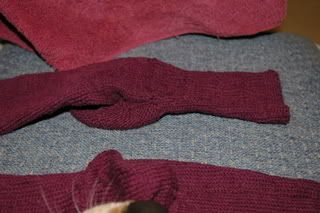 They aren't pretty but I'm sure my friend will know they were made with love and in time I might be able to make prettier ones. LOL.
Happy Hump Day!