I have been trying to get this post up since last Wednesday. It was a crazy week and the weekend has just gone by too fast. I started to post this morning but got caught up in Stephanie's post about her book tour at her yarn harlot blog. Then had to run out and do errands. I had to order new glasses today. Yes, it has happened. I need reading glasses! I'm way too young for such things but I've decided the only thing to do is put my chin up and embrace it as a new level of womanhood. On a lighter note....
Spring is arriving, some places more slowly than others but it is on the way.
I had to take pictures of balloon tests at work last week. A balloon test is used to simulate the height of a proposed tower, in this case a cell tower. And it was a gorgeous day. So at lunch time, since I had my camera I decided to try and capture a few things that proved spring was coming in full force.
First, I spotted this almost immediately! Yarn on the Hoof!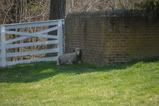 I just want to run over there and shear his/her cute little self.
I tore myself away and went in search of other signs of spring. I found this gate open. And wondered where it might lead.
I walked some more and spyed this beauty.
And finally a riotous group of hats really caught my eye, blowing in the breeze and show off their colors.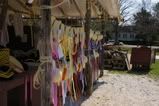 I think that second one in on the bottom looks suspiciously like a portkey, don't you? They way it stands out from the others?
Well, today I went to my class to learn Elizabeth Zimmerman's Baby Bog Jacket. We had a blast. We don't meet again for another week, in order to give us time to get the knitting done and be ready to weave or add I-cord.
This is so easy and beautiful. She is a genius really!
The instructor who studied Elizabeth Zimmerman, is just wonderful and so kind and forgiving when you make a mistake and have to correct.
I can't wait to get home tonight and knit on it some more! And it is 84 out there today! Ug and I'm stuck inside. I could be sitting outside, knitting and getting some sun!
Oh well, have to earn enough money to pay for the yarn, I suppose.
Happy Knitting!