Well, not much happening here today, it is sunny which is a nice change from the snow yesterday and it is in the 50s. We plan on dinner later this evening, so we decided to spice up our otherwise uneventful holiday with a trip to the nursing home.
So we packed up the two therapy dogs par excellence. (Lily and Molly)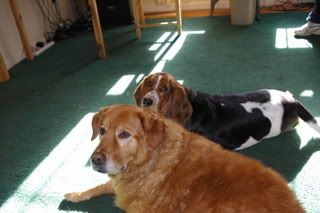 into the Dog Wagon...
And headed over to Northampton Convelescent Center (www.vahs.com/northampton.html
It was a pretty active there today being a holiday and I was glad to see that one of our regulars was out today with family. But there were plenty of residents, staff and guests to give Lily and Molly a good work out. And everyone seemed happy to see them. One of the residents was celebrating her 100th birthday this month!
It was a good way to spend an afteroon.
On the knitting front, worked some this morning on the bog jacket, plan to do some more this evening. And have been keeping up with the Yarn Harlot on her blog.
If you haven't checked it out, all I can say is why? It is hilarious and her adventures at the Chicago airport will make you laugh and cry for her! I have never been to Chicago and always have wanted to go so this weekend I am living vicariously through Stephanie McPhee! It doesn't look like she is coming to my neck of the woods so I am having to keep up on the fun through her blog. ah, such is life.
Well, I have to go start some laundry, as my husband is concerned that he cannot wear an unfinished baby bog jacket to work tomorrow. Go figure.
Til next time....Happy Knitting.