Not many people get to have President's Day off from work. And I think this is the first time I have ever had it off as a holiday from work, but thankfully so. I have had the worse stomach virus since Friday, yes,
that's
right I have been sick the entire weekend! What is even worse is that I took Friday off to have a nice four day weekend, my hubby and I had big plans this weekend to include going out of town for a day. Well that was all put on hold as I couldn't hardly leave my comfy chair much less town. I was so sick on Friday I couldn't even knit! Can you imagine, I toyed with the idea of going to the ER, I mean if I didn't have the will to knit i must have been on death's door.
I am somewhat improved today and able to knit again.
I have actually worked ahead on my sock homework. Tuesday is the last night for sock class. I'm sure that normally knitting a sock doesn't take three weeks. But shaping the toe was easy enough so I saved the finishing part for class. I have never done the
Kitchner
stitch and would like to see the instructors demonstration before I attempt anything that might ruin the sock that has taken three weeks to knit. It looks pretty good even looks like a sock.
LOL
.
Last Wednesday I decided that I would needed to start planning for my own pair of socks now that I was nearly half finished with the pair for my hubby. So I went back to Knitting Sisters and bought four balls of wool for myself.
The first one is 100%
superwash
wool, the color is called Mother Load, a combination of muted burgundy, green, yellow, gold, blue and brown.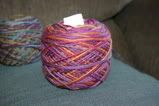 The second is also 100%
superwash
wool the colorway is called Forest and a
mixture
of dark to light greens and blues with some black.
Both are by Lorna's Laces hand dyed yarns.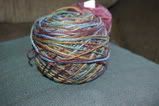 So now that I have worked ahead on my sock, it is sitting on the only pair of size 2 needles I own at the moment. So rather than start another sock, I have returned to other projects already on the needles.
I am still attempting to have everyone knitted something for next Christmas, I have completed a hat and scarf for my
niece's
son. A hat, scarf and mitten set for her and now working on a scarf that will be part of a scarf and hat set for her husband. I doing it in a basket weave stitch for no reason other than I wanted to learn how to do the
basket weave
stitch. I selected a really soft acrylic yarn for him called Grapevine, it is a dark purple and green, very masculine I thought and keeping in the color scheme of the family. I did shades of blue and purple for my
niece
, in light tones and blue for their son.
I can't decide on colors for my sister in law, my hubby thinks orange and white since they are Tennessee Vols fans, but I was thinking something a little more feminine. Perhaps the orange and white for my brother in law. Plus, two nephews and one nephews girlfriend. Another brother and sister in law and then I will have my hubby's side of the family done. Then on to my side!
LOL
. I have more little ones on my side which I think are lots of fun.
Well, it is cold outside and I am not back to being a 100% so that means time to get knitting!
Happy knitting all!